Why RecruitingWare?
RecruitingWare offers our clients state of the art Recruiting software designed specfically for the healthcare industry. RecruitingWare provides a simple to use interface and is packed with powerful tools and features.
Much More Than Your Average Applicant Tracking System
RecruitingWare provides healthcare recruiters with hosted recruiting software that fully integrates a job board and application system on the front-end for your website's visitors. On the back-end you can manage candidate profiles including credentials and licensure tracking, healthcare skills checklists, and online submittal process.
Award Winning Resume Parsing Technology
RecruitingWare allows you to upload resumes into your Database and create HR accounts right from your desktop. We support resumes in Microsoft Word format, PDF, and HTML. Job Seekers can also use this function to upload their Resume right into your database.
Healthcare Focus
RecruitingWare is Healthcare-centric meaning that we are committed to tailoring our system to match the needs of today's Healthcare recruiting organization.
Why use a general purpose ATS (Applicant Tracking System) when you can use RecruitingWare's Healthcare-centric features?
Connected to Healthcare Job Boards
RecruitingWare has relationships with many Healthcare-specific job boards and can post your jobs on their websites for no additional charge. Imagine logging into RecruitingWare, entering your job orders, and having them automatically propagate to the best Healthcare job boards out there! This increased visibility will bring more job seekers to your website. Take advantage of our Job Chat technology and you have a winning solution to turning Job Seekers into Applicants!
Affordable
RecruitingWare is an affordable online recruiting software service, even for companies with a single recruiter.
Contact us today for a free demonstration of our Physician, Nurse, and Allied Healthcare recruiting software and see how RecruitingWare can improve your productivity.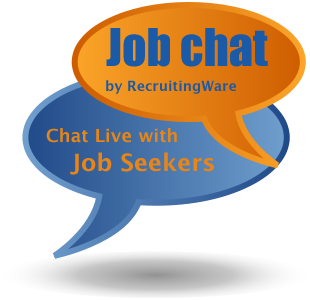 What is JobChat?

JobChatTM is an exclusive service offered by RecruitingWare which provides a way for you to chat live with job seekers. When you are logged in to JobChat, job seekers will see a an image in your ads and on your website that says "Click here to chat with a recruiter." Clicking on this image leads them to an optional pre-screen form which ensures that only job seekers that meet your requirements get through, resulting in high quality leads who are looking for a job right now! You can then chat with them and convince them why your company is the best to work for!

How does it work?
JobChat works by "chat-enabling" your website and online job postings. This is done by placing a tiny snippet of HTML and Javascript on your web pages and in your job postings. Your webmaster can add the snippet to your home page and whatever pages you wish to have the chat function, IE search pages, summary pages, etc.

To get all of your online job postings chat-enabled, we have an automated system call the JobReflector which you can send your files to. JobReflector can also automatically send your jobs on to the job boards where you advertise in the job boards' native formats saving you time and money!

Since JobChat is 100% browser-based, there is no need to download and install any software. When you are logged into Job Chat and accepting chats, Job Seekers who visit your website or online job postings will see a "Click to Chat with a Recruiter" image. Clicking this image will connect them to you in realtime by first optionally pre-screening them with questions of your choice.

Job Chat is available as a plug-in to your existing website. Sign up today and be chatting with Job Seekers within minutes!

If you are a RecruitingWare client, you are eligible for 10 free chats and a discounted rate per-chat. Contact us for more info.