Septempber 09, 2008 - Enhanced Resume Parsing Added to RecruitingWare's Service
RecruitingWare has created a new Resume Parser that will help streamline your recruiting process. Your applicants can create accounts by first uploading their Resumes into your database. Our parser supports Resumes in Microsoft Word, HTML, PDF, RTF formats. You can also take resumes and feed them into your database to create new accounts, or to attach resumes to existing accounts.
August 17, 2008 - New Job Enhancements Released
RecruitingWare's Job Database has been improved to include some exciting new features:
Each Recruiter can save their own defaults for each job type. This will reduce data entry time when placing new job orders.
More Filters have been added to help you drill down to the jobs you're interested in seeing
The "Print Jobs" function now uses the filters
As always, RecruitingWare invites you to feel free to give us feedback on any of our existing features, or any features you'd like to see created or improved.


July 28, 2008 - New HR Enhancements Released
We have improved the HR function of RecruitingWare and have added some useful new functions. Highlights of some of the changes are:

You can now sort your applicants by Profession IE Nurse, Physician, Allied Health, etc.
We've also added a new field called "Specialty" which can be set for the existing people in your database. All new applicants will have to select this when applying.
Summary display of applicants - you now click on their name to view/edit the record
You can now return to your last HR search by clicking on "My Last HR Search" under Recent Items on the left side of the screen.


July 16, 2008 - New Job Engine Released
We have released a new and improved jobs engine. Many new and useful fields have been added to jobs so you can more accurately describe your job orders. You also now have the ability to select which categories you want to use and make available to your applicants. Don't have Camp Nursing jobs? No problem - just click on the Admin tab -> Manage Job Categories and customize your categories. The same is true for Job Specialties. You'll now be able to tailor your categories and specialties to just the type of jobs you support.
Improvements to the management of job orders are also part of this release. You now have the ability to assign a job to an employee in your organization and soon you will be able have applications to jobs sent to the designated owner.
All of your existing jobs in your database have been migrated to use this new engine.




June 6, 2008 - JobChat is now integrated with RecruitingWare.

What is JobChat?
JobChatTM is an exclusive service offered by RecruitingWare which provides a way for you to chat live with job seekers. When you are logged in to JobChat, job seekers will see a an image in your online job ads and on your website that says "Click here to chat with a recruiter", like the image below. Clicking on this image leads them to an optional pre-screen form which ensures that only job seekers that meet your requirements get through, resulting in high quality leads who are looking for a job right now! You can then chat with them and convince them why your company is the best to work for!

As a RecruitingWare client, you are eligible for 10 free chat credits and a discounted rate per-chat.
Activate this service for your account today by clicking on the JobChat tab or by clicking here.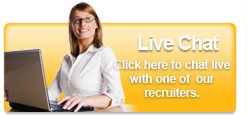 (Click on the image to learn more about JobChat)


July 16, 2007 - RecruitingWare 4.1 Released
New Features in this Release:
Our hosted recruiting software now offers Online Skills Checklists for your applicants! Our new checklists allow you to have your applicants rate their apptitude in several main areas: General Nursing Skills, Perioperative Skills, Critical Care Skills, Labor & Delivery, Telemetry / Stepdown Unit Skills, and Trauma Nurse Skills. Over 2300 questions in all to help you identify the most skilled applicant for your job openings. These checklists are also printable. Please Contact Us to find out how to sign up for this new feature.
A "Recent Items" menu (on the left). These are shortcuts to the last 10 items you worked with.
Newly Updated credentials fields to be inclusive for all healthcare professions.